Joined

Nov 5, 2017
Messages

3,505
Country Flag

Ireland
Club or Nation

Leinster
So, the most forgettable tournament in rugby history has finally come to an end. Thankfully, to make up for missing out on real Autumn internationals we get the joys of one of European rugby's most memorable and beloved tournaments, which thankfully has been completely unaffected by the ongoing pandemic and will proceed exactly as normal.
Now, on the off chance someone isn't a regular user of psychedelic drugs, they may struggle to understand the new and improved format we've got this year. If you don't get it, just take the drugs to get into the frame of mind our genius overlords at the ECPR were in when they dreamt it up. If you still don't get it, here's an explainer: Your team will play home and away against two teams. The teams you have played will also play against an entirely different team. At the end of this, you will have played four games and so will each of the teams you played against (two against you and two against some other team that will have nothing to do with you). At the end of these four games, your record will be compared in a group of 12, which will include 6 teams that will only have played against each other and have nothing to do with your team or any of the teams you've played against, or even any of the teams they've played against. If you're in the top 4 of this group of 12, you'll advance to the quarter finals, which are two legged for some reason.
Clear now? No? Good. It's not meant to be understood by us mere mortals. It won't matter anyway because at Christmas we remember what's important in life, and that's Sale losing all their games and Munster suffering an agonising loss in the semis (and Leinster looking unbeatable before getting smashed by Saracens but that won't happen this year yippee)
Also the Dragons are involved for some reason.
Anyway, here are this weekends games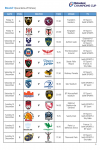 If people think we should have more than one thread fair enough, but it's so convoluted that it's hard to see the point in doing group threads.