Joined

Dec 9, 2010
Messages

1,713
Country Flag

South Africa
Club or Nation

Sharks
This round we again will gain more perspective as to what we can immediately expect from the South African challenge in the URC this year.
Round 2 Fixtures

​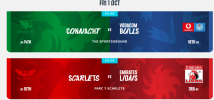 The First weekend was a rough weekend for the South Africa fans continuing the harrowing experiences we have been facing over the last few weeks with losses to Australia and New Zealand.
Stormers losing to Benetton was shocking to me. The South African teams have got a proper shock to the system, especially when paired with what's happening in the International arena.
Sharks VS Munster went as expected in retrospect. We showed glimpses of our style in the Currie Cup and Super Rugby but every time we attacked, they smothered us at the breakdown and either turned it over or forced a penalty. Munster was very effective in attack and this exposed a fragile Sharks defensive system. The frailties expose themselves when as in the case against Munster we lose the forward battle, this is where the Springboks players could come in handy.
I expected Leinster to win. Just not by as far. Bulls typically showing their historically poor touring form.
Lions letting Zebre back in the game was entertaining but a proper wtf moment as to the presence or lack thereof of any form of fitness or composure by the Lions. Their mentality needs to be questioned.
I Understand things are going to be tough in the first few weeks for SA teams, but I believe some teams will come to the party sooner than some people think.
Here is one example of a sudden shift to overall negativity for the South African challenge in the URC.
Jake preaches perspective after bulls humbling
While I think it's true our youngsters are struggling and yea it was probably ignorant to think we will beat the original pro 12 teams straight of the bat away. There is hope.
This journalist believes its gonna get worse first
Click
Here
for link
For this weekends games​
If the Bulls lose to Connacht then we know for a fact we are going to struggle away this year.
Lions will probably lose vs Scarlets, but it could be a fun open game with lots of tries. Lions might give them a go.
Benetton should take Edinburgh at home .
I understand Glasgow is one of the better teams in this comp the last couple of years, and they should be favourites but if the Sharks can improve their defence by just a little in terms of accuracy and take more care of the ball in the next game then we can outscore Glasgow .
Ulster to get their points difference to 50+
Stormers will make it a close game vs Munster in the first 30 but I think Munster's fitness will prevail, and run away slightly with the score.
Ospreys at home? Should beat Cardiff right?
Leinster will maybe peacock the rest of the competition with a strong win vs Dragons.
May the best teams win. I have not lost hope yet.