Joined

Feb 19, 2011
Messages

230
RC4 PC Editor RELEASE
This thread is for every release of the editor.
Beta version 0.1
Download:
Features:
Basic Player Stats Editor
Team Lineup Editor
Team Names Editor
Global Stats Editor
Some tips:
The editor includes a DummyPlayer function, which allows you to save a player which isn't official under a certain country with terrible stats so they won't be selected in the career modes. The purpose of this is to "tag"certain players so they won't affect the career modes. If you want to add a new player, its best to replace one of these players with that function.
You can save your changes, once you done you HAVE to write to the database. The buttons are next to one another.
Loading time after you've selected the database takes a couple of seconds, just give it time.
Do not make any changes to players which do not have names etc in the editor, officials or network players. This can potentially break the game!
Next release:
At this point in time I haven't given any attention to editing player likeness like it the old editor to assign the headIDs etc. But its coming on the next version.
I'm including a function which will alert you if the DummyPlayer has been put in any team lineup.
Screenshots: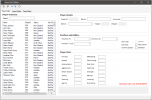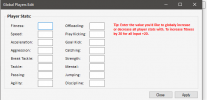 Please do not post or ask questions here, use the discussion thread here:
RC4 Player Editor This thread is to prepare for the upcoming release of the RC4 Player Editor. Similar to my RC3 version. New version of the editor will be released, however, I'm keeping the new version very basic. Here's a teaser so long :eek:: FYI Calling all modders to assist, we need to...
Please buy me a cold one if you like the editor:
DONATE