Joined

Mar 26, 2021
Messages

23
Country Flag

Ukraine
Some information about dirt on faces in Rugby 08.
The game uses some common "dirt" texture for faces and some other things:

The head material adds this texture to 2nd texture slot:
Code:
mat1 [LitTexture2IrradSkinSubSurfSpec,tex1:dirt]
And this texture slot uses 2nd UV map channel. So you need to edit 2nd UV channel of the face.
Here how it looks in original game: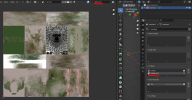 So the head mesh is mapped to some area on this texture.
And here how this texture looks when mapped to the head mesh:

So you need to create 2nd UV channel for you mesh and also place it correctly on the dirt texture.
If you want custom dirt texture for your face
, you can try the following:
Add your custom "dirt" texture to face fsh. If it won't work (original texture still will be used), you can change texture name in material options and also add this texture it to face fsh.
If you don't want the dirt to be applied to the head
, you can try to use some other shader, for example
Code:
LitTextureIrradSkinSubSurfSpec
Or you can also scale the whole 2nd UV channel to one point and put it somewhere to transparent area on original dirt texture.
Last edited: