Grond van der Hogg
TRF Legend
TRF Supporter
Joined

Apr 6, 2011
Messages

8,192
Country Flag

Aaland
Club or Nation

Munster
@TRF_Olyy
Just to break up the ref chat, we clearly must have had a bet where I lost and had to donate to a charity, can't quite recall what our bet was, but long story short this showed up at my parents house.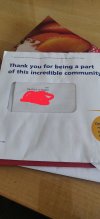 Thank Christ my parents are away.
Edit: Irish Cancer Society FYI.
Edit 2: point of clarification the bet was with @the alpha bro that Ex would beat Leinster and I guess I decided to stick it to Olly while drunk?
Last edited: