Joined

Sep 20, 2011
Messages

7,005
Country Flag

England
Club or Nation

Bath
General rule of racing, if someone has plonked their car on a part of the track, you can't drive into it. Hamilton was level with Verstappen at the braking zone and began backing off when it was clear Verstappen was going to swipe across him, he didn't slow down in time and clipped Verstappens rear wheel.
Verstappen for years has driven in a similar manner to Schumacher, when he seems to have lost a position he would turn and force the other driver to either back out or risk a collision. If you watch the aerial shot in slow motion you see Hamilton is level and turning into the corner, Verstappen on the other hand begins turning into Hamilton like he isn't even there. It was high risk but ultimately Hamilton had succeeded in getting level with Verstappen and Verstappen should have realised that Hamiltons car would therefore be covering the racing line on the inside of the corner. The fact he made no allowance whatsoever for the fact the racing line would be obstructed is what caused the crash.
This is how the cars were positioned when Verstappen decided to start turning in, there is no way Verstappen couldn't have seen Hamilton here.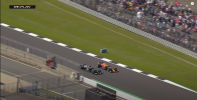 This is how the cars were immediately before contact. Verstappen was taking the racing line completely ignoring the Mercedes. Hamilton is behind as he started backing off when Verstappen cut across him.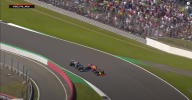 Verstappen played chicken, he intentionally cut across a car on the inside that was covering the racing line using the "back out or crash" brinksmanship and it failed. Hamilton didn't force his car out to hit Verstappen, Verstappen turned in to hit Hamilton. Had Hamilton's car not been there, Verstappen would have been driving his car to hit the apex, something he should NOT have been attempting once he saw Hamilton had the inside covered.